Chin Tee has a law degree (the professional examination qualification) and has passed the bar vocational course. He joined Resolution Life in April 2019 and works as a paralegal in our legal team.
What attracted you to Resolution Life?
What drew me to the role was the chance to get in on the ground floor of an exciting and fairly new sector. That appealed to me.
What career path do you have at Resolution? Do you see opportunities to progress?
When I first joined, I was told the role could be whatever I make of it. A year later, I find I'm doing a lot more than just the usual paralegal stuff. I'm also getting involved in the tech side - working a lot with the security committee and the IT department. I'm helping to ensure we have a robust cyber security system in place and am providing oversight into how to implement the security requirements we need to meet to fulfil investor obligations and keep the company safe. Obviously, the COVID situation has made cyber security even more important than ever. I'm also training staff on cyber security matters and have been given responsibility for rolling out new platforms such as an e-signature platform so people can sign agreements more efficiently and securely.
What did you expect life at Resolution to be like? Has the reality lived up to your expectations?
When you join a company that's going through massive growth you meet a lot of people in a similar position which creates a level of camaraderie and team spirit. I hadn't experienced that before as the companies I'd worked for previously were already established and had been in business for some time.
I expected the company to be very technical because there's a lot of investment vehicles and the company structure is quite complex, but it's not.
What do you enjoy most about your job?
At first, I was concerned the role itself might very repetitive but that hasn't been the case. I've been able to get involved in everything from trademark disputes through to cyber security issues.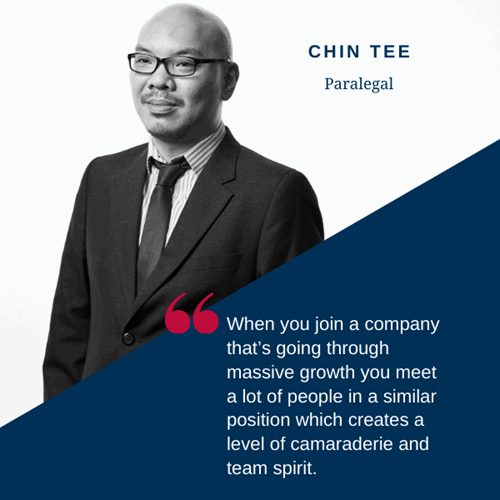 If you weren't a paralegal, what would you like to be?
I'd quite like to writer; to be a fiction writer. Literary fiction or maybe even science fiction.
If you could have any person's job at Resolution, whose job would you choose and why?
I wouldn't mind having Clive Cowdery's job – not just because he's head of the company but also because he was the person who identified this whole sector we're working in. It explains why he's so involved, so hands on. It's obvious he cares about the company – it's his legacy. It would be nice to have a legacy.
As an employer, what does Resolution value?
Candidates who get it done and are enthusiastic.
Who at Resolution who best embodies the company's values and why?
Kirstin Rankin because she's is one of the hardest working people in the entire company. She also has kids! and, quite frankly, I have no idea how she's able to balance the two. It genuinely impresses me.
How has Resolution invested in your learning and development?
In my short time with the company, I've undertaken off-site and online courses in matters such as cyber security, client issues and even the implementation of artificial intelligence systems. I've also learned much more about trademarks.
What would you like your next job to be?
I have no idea what the future might bring. Head paralegal, perhaps. I'd like to be able to lead a team.