Jamie Logie joined Resolution Life in January 2019. With a master's degree in mathematics and an actuarial qualification, Jamie works as a pricing principal within our mergers and acquisitions team.
What attracted you to Resolution Life?
I was previously a consultant at Deloitte and had been doing that for quite some time. I was advising companies like Resolution – doing what I'm doing now. I was always advising specific part of transactions and I wanted to go inhouse so I could see how the whole transactions worked. Resolution has been very successful in consolidating life insurance companies. I always found Resolution an interesting company to be following so when I got a call from a recruiter it piqued my interest. It was great to be able to work for a company that knows how to do it and do it well.
What career path do you have at Resolution?
There is a lot of space to do different things and I try to learn as much as possible. My role is to price transactions and try to win bids, but I get a lot of exposure to finance and risk which might allow me to move into other roles in the company. Or perhaps I could go into a portfolio company and do a role there.
What did you expect life at Resolution to be like? Has the reality lived up to your expectations?
My expectations have definitely been surpassed as the work I'm doing is more diverse than I thought. I get involved in a bit of everything. M&As aren't always on and so there's always something else to do. The skill set I have can be applied to different parts of the business. I'm pretty pleased about that. At the same time, I'm working in other places and other countries I didn't think I'd be working with. When I first joined, I thought I'd be doing M&As in Europe but I've been working with the New Zealand company quite a lot, the Aussies in particular. I like the diversity of the work. I do quite a lot of different things when I'm not doing pricing which is great.
What do you enjoy most about your job?
It's very challenging work. I find it intellectually really challenging – I'm not bored ever. It is very busy but that comes with the territory. The management team is great and I've learned a lot by working with them and observing them. They've all got deep skills, great reputations and experience. Getting a chance to work with them and learn from them is very satisfying.
What do you most dislike (or like the least) about your job?
<Laughs>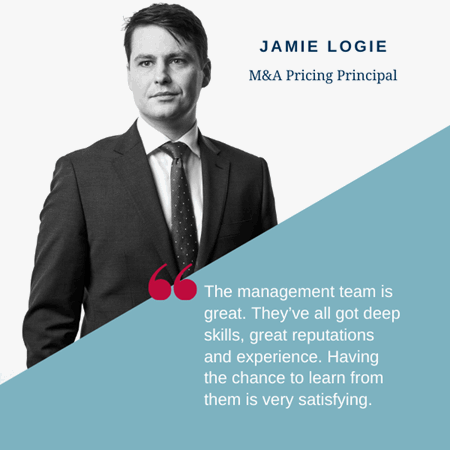 If you weren't a pricing specialist what would you like to be?
A personal trainer. That would be fun.
If you could have any person's job at Resolution, whose job would you choose and why?
I'd like Jonathan Moss'. He's a bit of an oracle. He knows everything. He's very experienced, very pragmatic, and I like the way he operates.
As an employer, what does Resolution value?
I think flexibility – the fact that you roll your sleeves up no matter what you need to do, even if it's not your job. It's a small company so everyone has a job role and title at the same time they want people to get involved in everything. They value that flexibility and getting stuck into anything that's throw at us. It's a complicated business and we've got very few people to do a lot of stuff.
Name a colleague at Resolution who best embodies the company's values. Why?
Kirstin Rankin. She always does the right thing, always makes sure we all keep a straight head. We have a lot of people at Resolution who are very optimistic and want to get on with things. Kirstin will always want you to do that but at the same time she's not one to get ahead of herself. She works very. hard, gets stuck in, works constantly.
Has Resolution invested in your learning and development?
Definitely. The fact that I get exposed to different varieties of work has helped. I get a lot of exposure to the senior team which has been very helpful in picking up new skills and seeing how the wider company works, not just my area. Trusting me to do work that I wasn't necessarily brought in to do. And trusting my views and work enough to involve me in talks with the senior management team.
What would you like your next job to be at Resolution?
Working either in one of our portfolio companies in maybe a slightly different function – maybe risk or capital or finance or something like that. To get some more diversity and experience.